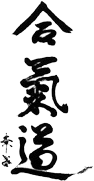 The Japanese word Aikido is written with three characters which translate as "the way of spiritual harmony." Aikido is a budo or "martial way," evolved in the tradition of Japanese warrior arts, yet has a unique approach to self defense. Aikido is more than a martial science of strategy and tactics, it is a discipline for training the mind and spirit.
Aikido was developed by Morihei Ueshiba (1883-1969), known to Aikido students as O Sensei (Great Teacher). As a young man, he overcame debilitating childhood illnesses through martial arts practice, eventually becoming a master of the sword, the staff, the spear, and the art of ju-jitsu. O Sensei also held strong Shinto religious convictions concerning the ultimate futility of conflict and the illusory character of victory based on strength. This internal contradiction, which drove O Sensei to adopt a life of austerity and rigorous training, was resolved through an enlightenment experience which led to the development of Aikido, a martial art influenced by a philosophy of universal harmony.
Dynamics of Aikido
All Aikido techniques and movements are based on the idea of harmony. Aikido emphasizes blending with an attacker by moving in such a way as to neutralize the force of the attack itself and thus neutralize the attacker. This is done by using spherical movements which allow the Aikido student to deflect the attacker's energy while simultaneously entering close to the attacker; "to blend with the attack," and so neutralize it.
Properly executed, some techniques are spectacular, sending the opponent flying through the air. Others are more subtle: small deft movements that immobilize the aggressor. Both results are achieved not through the use of brute strength, but by blending and neutralizing the attack, followed by circular and flowing techniques to unsettle the opponent, and completing the movement with a throw or immobilization. Because great strength is not required, Aikido can be practiced by men and women of all ages.
Aikido Practice
Aikido training has also been shaped by its philosophy of harmony. There are no competitions or tournaments in Aikido. Rank is awarded through a testing procedure which emphasizes self-discipline, rather than the mastery of others. Daily practice focuses on the development of technical skills and awareness through the constant repetition of techniques in a controlled environment in order to master the fundamentals of moving, timing, and breathing.
Most practice is done with a partner: each working at his or her own level of ability, alternating as uke (the attacker) and nage (the one who is attacked). Both roles are stressed; each contributes skills that enhance overall sensitivity and control.
Wooden practice weapons — a sword (bokken), staff (jo) and knife (tanto) — are sometimes used in aikido training, not to understand how to use the weapon, but to better understand the techniques and movements of aikido itself.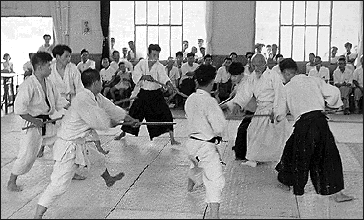 Students train to neutralize the energy of the opponent's attack and to redirect and focus it into techniques of martial efficiency and power. At the same time, the student can use the same philosophy to deal with stress and conflict in daily life, and learn to remain calm under all conditions.
Centering
The final aim of Aikido is to integrate physical and mental training to develop a confident person who can think clearly and react instantly on and off the mat. It is only through constant training that an Aikidoist can acquire the habits of mind which make this integration possible.
In Aikido, such an integrated person is said to be "centered." A centered person displays a confident and relaxed posture, and centering gives Aikido movements their appearance of grace and simple elegance. Thus, Aikido training helps a student to become calm and centered and enables the student to deal with stress and aggression in an efficient and decisive manner on the mat, at home, at school, or at work.